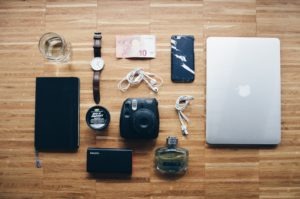 Hey & Willkommen zu meinem aller ersten Blogpost!
Heute stelle ich euch meine Daily Essentials vor, das bedeutet die Dinge, die ich jeden Tag verwende und zum Teil auch immer bei mir habe. Lasst uns beginnen!
 Hey guys and welcome to my first blog post! Today, I'll present to you my daily essentials. The things I use and have with me every day. Let's start!
1.  Wasser (Um immer fit zu bleiben) / water
2. Meine Daniel Wellington (Absolute Lieblingsuhr) / DW watch
3. Bargeld (Immer wichtig) / cash
4. iPhone 6s (Lebensretter) / iPhone 6s – marblecase by Angstchild
5. MacBook (Gerade in Betrieb) / macbook
6. Kalender aka. Hausaufgabenheft (Da kommen alle Termine rein) / moleskine calendar
7. Lush (Super erfrischend) / lush mask
8. Kopfhörer (Wirklich immer dabei) / headphones
9. Polaroid Instax Mini 8 (Für coole Erinnerungen) / polaroid camera
10. Aufladekabel (Lebensretter für den Lebensretter) / charging cord
11. Ersatzakku (Für lange Tage) / battery pack
12. Parfum (Lieblingsduft) / perfume
–